[[File:Ficon_big.png|thumb|125px
Rank Needed
Master/Mistress
Cost
190 000
Weapon Mounts
2
Missile Mounts
0
Armour Points
225
Hull Points
330
Hull Capacity
135
Size
34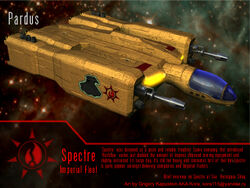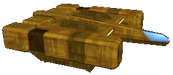 In Game Description
Edit
It is hard to believe that the Spectre design is based on the original plans for the Rustclaw! The Empire engineers aimed at creating a contemporary small transporter; and it is obvious that they succeeded.
Class and Information
Edit
The Spectre is often used by empire pilots as a means of making money to advance to better fighters like the Shadow Stealth Craft or a Neutral trader.
Construction
Edit
2 Heavy Plastics
4 Energy
2 Electronics
8 Metal
Construction (Total)
Edit
16 Heavy Plastics
32 Energy
16 Electronics
64 Metal
Community content is available under
CC-BY-SA
unless otherwise noted.