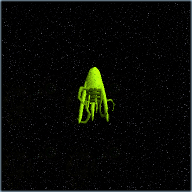 Official Information
Edit
Mutated by the energies of the Lucisti Virus that have come to infect the Pardus Core, these already fearsome monstrosities have evolved into a wholly new state of being. Though it matters little, the Medusa's poison, already potent enough to paralyze even some of the largest space beasts, in its mutated form has been found to be even more concentrated. The more pressing threat however is their increased resilience to modern weaponry, their gelatinous masses able to reflect many attacks based upon particle beam energy.
Disposition: Predatory
Rarity: Rare
Region: Pardus Core
Hull 600
Armor Points Factor
ORG 4 x
Shield 120 Regen ?/6
Weapon Damage Type Firerate
Small Tentacles 25 ORG 2
Small Tentacles 25 ORG 2
Big Mutated Tentacles 90 Pardus 2
Energy Shockwave 160 Missile 0.33
XP 2400
HA Limit 70
Respawn Location Moving
Unknown Unknown No
Cloaks No
Retreat Hold Yes, Dangerous
Community content is available under
CC-BY-SA
unless otherwise noted.